'Injustice 2' Voice Cast: All-star voice actors lend their talents to the fighting game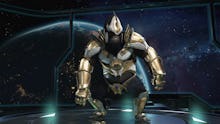 When a game stars a litany of cultural icons like Injustice 2, it's important that the right voice actors are involved. It just wouldn't be right if Batman didn't sound like Batman, you know?
Thankfully, Injustice 2 has a pretty great cast of voice actors who will be familiar to both video game fans and D.C. Comics enthusiasts.
Injustice 2 voice actors: Kevin Conroy, Laura Bailey and more highlight the cast
You can find the full cast list on IMDB, or you can get an audio sample of it from this video.
First off, there are plenty of D.C. universe heavy hitters here. Kevin Conroy reprises his role as Batman, which he's held and mastered in just about every animated and video game adaptation of the caped crusader for the past 20 years. Laura Bailey, who video game fans might recognize as Nadine Ross from Uncharted 4, voices Supergirl.
Veteran actor Neal McDonough is both the Flash and Robin, while Futurama alumnus Phil LaMarr is Aquaman. Fans of the Matt Groening sci-fi animated series will remember LaMarr as Jamaican bureaucrat Hermes Conrad.
Finally, the cast is rounded out by longtime animated Superman voice George Newbern reprising that role. Tara Strong, who you might know as Twilight Sparkle from My Little Pony or Timmy Turner from The Fairly Oddparents is Harley Quinn, while voice acting legend Fred Tatasciore is Bane. We can't even give you specific examples of Tatasciore's work because he is in literally everything that requires voice acting.
More fighting game news and updates
While you wait for more Injustice 2 character reveals, read more fighting game news on Mic. Find out more about Super Smash Bros. for Switch, the Injustice 2 roster, the Tekken 7 console release date, what to expect from Marvel vs. Capcom: Infinite and the Evo 2017 lineup.