Paris mayor trolls Donald Trump for saying city is unsafe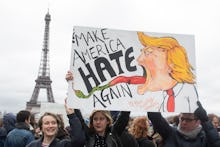 The mayor of Paris was quick to clap back after President Donald Trump spoke ill of her city on Friday.
During his speech at the Conservative Political Action Conference, President Donald Trump had some harsh words for the city of Paris — courtesy of a friend named Jim.
"I have a friend, he's a very, very substantial guy, he loves the city of lights. He loves Paris," Trump explained. "For years, every year during the summer he would go to Paris. It was automatic. ... I said, 'Jim, let me ask you a question. How's Paris doing?' 'Paris? I don't go there anymore. Paris is no longer Paris.'"
In response, Paris Mayor Anne Hidalgo, like other foreign government officials before her, took to Twitter to fight back — with the help of two beloved American icons.
Hidalgo tweeted out a photo of herself with Mickey and Minnie Mouse, accompanied by messages in French and English. 
Hidalgo's appearance with the Disney gang appears to be from the recent unveiling of the City of Paris and Disneyland Paris' new joint tourism campaign, "Paris is waiting for you."
Though it is true that Paris has suffered a decline in tourism following its recent terrorist attacks, Trump might not want to be so quick to judge. The U.S. is suffering its own foreign tourism slump right now, and the cause is something much more real than the threat of terrorism: Trump's presidency.