Sean Spicer bars the 'Times,' BBC, CNN from press briefing amid White House's war on media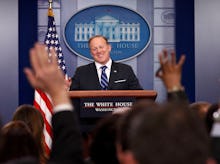 President Donald Trump has called the press "the enemy of the people." On Friday, his administration took its anti-press rhetoric to the next level when several outlets, including the New York Times and CNN, were blocked from attending an informal briefing with White House press secretary Sean Spicer. 
Other outlets including the far-right Breitbart and the Washington Times were allowed in, according to the Hill, one of the outlets that wasn't permitted access.
The administration's actions on Friday directly contradict how Spicer previously said the press should be treated. Back in December, he told Politico's Jake Sherman and Anna Palmer that the Trump White House would not take the authoritarian step of banning reporters. 
"I think we have a respect for the press when it comes to the government, that that is something that you can't ban an entity from — conservative, liberal or otherwise," he said. "That's what makes a democracy a democracy versus a dictatorship."
Politico, BuzzFeed, the BBC and the Los Angeles Times were reportedly among the other outlets denied entry into Friday's "gaggle," or informal session with the press. Friday's gaggle was held in Spicer's White House office instead of the official briefing room, and wasn't on-camera.
According to the New York Times, reporters from Time and the Associated Press were offered access to the gaggle, but chose not to attend in protest.
To many, the White House's choice to handpick only certain outlets for Friday's briefing represented an alarming attempt to suppress the free press. 
New York Times executive editor Dean Baquet said in a statement: "Nothing like this has ever happened at the White House in our long history of covering multiple administrations of different parties. We strongly protest the exclusion of the New York Times and the other news organizations. Free media access to a transparent government is obviously of crucial national interest."
New Hampshire Democratic Rep. Carol Shea-Porter had harsher words for the Trump administration, tweeting, "If Trump can't handle press in the White House, he should move out. We the people own it."