Who is Nicki Minaj talking about on "Make Love"? Lyrics for Gucci Mane's new single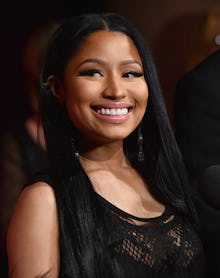 Nicki Minaj reunites with Gucci Mane on his new single "Make Love." While Gucci is in his zen space, ignoring petty beefs, meditating and focusing on his wedding plans — which include booking Beyoncé for the occasion, according to the song's lyrics — Minaj, on the other hand, has no chill and brings choice words for someone on the new track. Listen to the new song below:
On one line Minaj raps: 
She ain't eatin' but I swear she got some bum ass taste
We're not exactly sure who she's talking about, but there are possibilities. Some fans believe Minaj's lyrics are taking aim at rapper Remy Ma. Some have been speculating whether a beef is brewing between the two, especially since Remy Ma lent bars to rapper Phresher's "Wait a Minute" remix. 
"That ghostwriter bout to call her/That lifeline getting shorter," Remy raps on the song. 
Nicki Minaj has denied claims about having a ghostwriter. Her ex-boyfriend Safaree "SB" Samuels and Iggy Izalea are among those who have stirred this speculation.
Fans are already chiming in on a possible beef between Minaj and Remy on Twitter:
Meanwhile it is also possible Minaj could be taking aim at another rapper. When Minaj says, "She ain't eatin' but I swear she got some bum ass taste," it could be a reference to Azealia Banks, whose first album is titled Broke with Expensive Taste. 
Last year, Banks went on a rant against Minaj on Facebook. "Slim down a bit ... Stop calling yourself the queen of rap," she wrote, according to Billboard. "I don't understand why you are so impressed with yourself ...," she continued. Banks later deleted the posts.
Whatever is happening here, Minaj has definitely stirred buzz around the new track with her witty and controversial lyrics. "Make Love" is Gucci Mane's first single on his forthcoming eleventh studio album Droptop Wop.
Mic has ongoing coverage of the Nicki Minaj. Please follow our main Nicki Minaj hub here.