'Ghost Recon Wildlands' Switch Shoulder Guide: How to improve your perspective in the game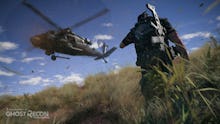 If you're playing the Ghost Recon Wildlands open beta, you might be running into some control issues when you're moving around in third-person perspective. Luckily, you can swap your perspective to the other shoulder at any time with a single click.
How to switch shoulders in Ghost Recon Wildlands
On Xbox One and PS4, all you have to do is tap RB or R1, respectively. On PC, tap your middle mouse button or scroll wheel.
The open beta started on Thursday and runs through Monday, Feb. 27, at 6 a.m. Eastern. So you still have a full weekend of multiplayer open-world action ahead of you. After that, you'll have to pay for the game when it launches on March 7.
More gaming news and updates
For more gaming news, check out the latest from Mic. Here are 15 photos that compare the Nintendo Switch to the Wii U and other gadgets, a beginner's guide to For Honor and a horrifying look at the sexual harassment female Overwatch players face on a daily basis.