Future's 'HNDRXX' Review: A revealing glimpse into the void after the high fades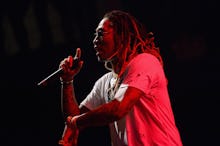 More so than pretty much any other rapper in the trap's upper echelon, Future has been obsessed with honesty. His sophomore album, Honest, made that artistic intention very clear. "It's going to be more substance, more passion — just more down with feeling," he said of it at the time. "I won't compromise who I am." Before a last minute name change, that album was originally going to be called Future Hendrix. 
Three years later, Future has resurrected that name, splitting it into two albums FUTURE and HNDRXX, released within a week of each other. The first, FUTURE, the artist described as being an "authentic" expression of where he is now, though it's essentially one long lean-sipping, shit-talking story. However, the second of the two, HNDRXX, is even more honest than Honest, according to the rapper. "I was just using it as a title instead of actually being honest in the music," he told Zane Lowe. "This is me opening up and just letting it all out so I can just move past it and certain things, I don't have to speak on it again."
HNDRXX presents similar scenes to those on FUTURE — showing the rapper rolling up to clubs to steal girls from the fakes, mixing up the dirty, flexing his muscles in the street. However, this time its songs huddle on the emotional extremes. Future lets his tender, romantic side shine through with more clarity; he expresses more genuine longing for life's simple pleasures that continue to elude him. At other times, it's like the rapper is watching himself self-destruct from a point further back in his mind, watching edge of the downward spiral come into view, quietly asking "Why?" He finds few answers, but he comes away with some glossy pictures of the void in the process.
A disorienting dichotomy propels HNDRXX. On one hand, its lyrics offer more poignant descriptions of the psyche-splitting hangover that inevitably follows the reckless city-painting the hip-hop super villain got up to on FUTURE. However, the artist illustrates the depravity using far more radio-friendly hooks and poppy instrumentals.
"If I open up my eyes, it turn black for real," Future claims after admitting to having "sold crack to a pregnant lady" in "Sorry." The record is full of such admissions, each adding shape and texture to the unbroken darkness Future feels his life has become. He talks feeling hunted by police looking for an easy bust and admits the tragic reality that he had a role model who "fucked my life up" on "Damage." The line seems to be a nod to the Atlanta icon's ongoing legal battles with his former mentor Rocko.
Future also opens up about some of the more devastating aspects of his ongoing public separation from singer Ciara. On "My Collection" he raps: "I'm tryna get the case dismissed before I see trial," he sings. "And these codeine handles ain't got nothin' to do with my lil' child."
Back on Future's 2014 mixtape Monster, his solution to extricate himself from those helpless feelings was to simply go on and "ball without you." But that mentality has brought a host of its own ills. Waking up with new women, new chains has only brought out a new nihilism. "Even if I hit you once, you part of my collection," he sings on the song's hook, letting the object of his affection know that though they're disposable, they've been forever marked by having connected with him.
The album has its bright, joyful moments, but these often cast their own deep shadows. "Fresh Air" the album's sunniest R&B jam, seems to offer a possible moment of renewal for the rapper at first. But its marred by the chaotic urgency of a few auto-tuned Kid Cudi-esque croons in the bridge.
"I'm mad, I'm mad, you know that I'm mad," Future sings, sliding off his brief moment of optimism. "Where's the love tonight? Where's the drugs tonight?/ I need that shit right away."
These two thirsts, for affection and intoxication, produce sinister side effects when taken in tandem, as Future admits over the echoey 808s of "Turn On Me." The sampled trumpet stabs on the hook feel so distant, as if Future literally can't close enough to actually hear any of their bright brassiness. "With this dope in my system, I know you gon' turn on me," Future raps through his paranoid haze. "We smoked so much, the ashes startin' to burn on me."
The only thing that seems to give any relief is the success. The fact that he can sip from the double cup in the office of a studio executive, or get Rihanna to harmonize with him on a ballad "Selfish," seem to be Future's most elated moments. But they in turn add their own pressures. After all the fire he's served out for fans, he can't afford to let them down at this point.
Future may have more points of contact with the album's inspiration, Jimi Hendrix, than many fans would feel comfortable admitting. Song to song, Future shows glimpses of Hendrix's undying thirst to perfect his craft and innovate his art form, but he also shows signs of the same exhaustion and paranoia that sped Jimi towards his end.
The darkness of the record is explored so freely, so naturally it does help answer an outstanding question from Future's 2016 projects — why didn't his collaboration with Drake, melodic hip-hop's other most untouchable super star, work? Both can craft radio bops out of moody, introspective meditations. Why did their collaboration paint such a bland and unflattering portrait of the two artists?
Compared to the demons Future faces, Drake's problems feel more akin to FOMO, or the stories often told in first world problem memes. They deflate the severity of the paranoia, the nihilism, the substance dependence that add human detail to Future's artistic persona. These come through in their full depraved glory on HNDRXX. It's not pretty — though it sounds like it at times. It offers a fascinating, if cringeworthy, portrait of an oftentimes despicable and pitiable public figure. It's brutally honest, at the very least.
Mic has ongoing music content. Follow our main music hub here.