Florida mosque fire reportedly being investigated as arson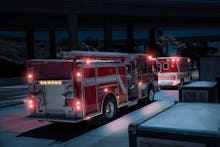 Just after 2 a.m. on Friday, firefighters in Tampa, Florida, responded to a call about a fire at the Islamic Society of New Tampa, a local mosque — and it only took a matter of hours for authorities to announce that they believed the fire was set intentionally, ABC News reported on Friday.
Responders from the Hillsborough County Fire Rescue were able to put out the fire and no injuries were reported, according to ABC News, but the mosque was damaged. Marks on the door, which was locked, reportedly indicate that someone tried to break into the building. Authorities will review footage from security cameras as part of an ongoing investigation into the incident, ABC News reported.
In a statement on Friday, Wilfredo Amr Ruiz, communications director for the Florida chapter of the Council on American-Islamic Relations, a Muslim-American civil rights organization, condemned the apparent arson as a "heinous act of terror against the Muslim community."
During a press conference on Friday, members of the congregation told reporters that the mosque received an outpouring of support from the local community, both in person and on social media, ABC News reported. By Friday evening, an online fundraiser to help the mosque repair damages from the fire had already raised more than $12,000.