Tom Perez wins the race to lead the Democratic Party in the age of Trump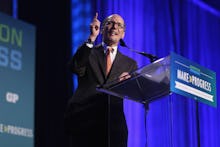 ATLANTA — Former Secretary of Labor Tom Perez won the race to become chair of the Democratic National Committee on Saturday — a major victory for the Hillary Clinton wing of the Democratic party.
With his victory, Perez becomes the first Latino to lead the Democratic Party. He was endorsed by former Vice President Joe Biden as well as former Attorney General Eric Holder and several other former Obama cabinet members.
Perez was considered one of two front-runners for the DNC race. The other front-runner, Minnesota Rep. Keith Ellison, was believed by many to represent the wing of the Democratic Party that supported Bernie Sanders' presidential campaign while Perez was believed to represent the Clinton wing. Advocates for both candidates vigorously lobbied undecided members in the lead-up to the election.
After an initial vote concluded with Perez winning 213.5 votes out of the 214.5 necessary for victory to Ellison's 200, Perez won a 235-200 second-round vote. According to DNC rules, a candidate wins if they receive 50% of the vote plus one full point. Democrats abroad were given half votes. Prior to the election, sources told Mic that Tom Perez had a slight advantage.
Ellison did receive the last-minute endorsement of Howard Dean, former governor of Vermont and DNC chair, who before the first round had supported a third candidate, South Bend, Ind., Mayor Pete Buttigieg.
After the vote, Perez appointed Ellison deputy chair.
"I'm asking you to give everything you got to Chairman Perez," Ellison told fellow DNC members.
Many prominent Democrats including Ellison, along with prominent liberal commentators, issued congratulations to Perez as well as calls for unity.
However, some Ellison backers remained sorely disappointed.
"It's disappointing to see that the Democratic Party establishment has rejected this opportunity to follow the leadership of the millions of voters joining the resistance to Trump." said Waleed Shahid, a member of the grassroots activist group #AllOfUs, which backed Ellison's candidacy, and is one of the founders of #WeWillReplaceYou, a political action committee that challenges Democrats who don't oppose Trump. "They seem to be going along with business as usual by bringing along the usual suspects who failed to stop Trump." 
Other candidates for DNC chair included Idaho Democratic Party Executive Director Sally Boynton Brown and TV pundit Jehmu Greene both of whom dropped out in the first round. South Carolina Democratic Chair Jaime Harrison and Buttigieg had been a candidates for the position but both dropped out prior to the first vote.
Feb. 25, 2017, 4:35 p.m.: This article has been updated.