Go beyond coupon codes with these 5 secrets to saving money from a (former) extreme couponer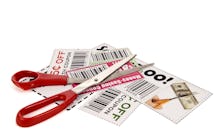 You never know when you're due for your 15 minutes of fame. I certainly wouldn't have guessed — when I first started using coupons to save money back in law school — that I'd one day wind up on Good Morning America chatting about my experiences as a former "extreme couponer."
But that's exactly what happened after I wrote an article on why I gave up coupons — and my story went viral. Many people can relate: You save lots of money, but get addicted, as couponing can becoming an end unto itself, like a game to see how much you can score. 
Yes, of course it's great to save a ton of cash on groceries and even get cool freebies. But caveats abound. The difference between using coupons as a savings tool and becoming a tool yourself is self-control. You can cut hundreds of dollars off your bills with minor effort — as long as you don't get sucked in and buy stuff you don't need.
Here are 5 ways to be smart about using coupons to save money.
1. Do some "recon" ahead of time
If you're supposed to shop at different stores to get the best deals, won't you have to waste a lot of time looking at store flyers? Not necessarily.
There are sites online where people who pore over grocery store and drugstore flyers publish lists of the best deals — by combining coupons with sales. Less work for you! Slickdeals.net has a Drugstore/Grocery B&M Deals forum (B&M stands for "brick and mortar," meaning a physical store). Deal Seeking Mom also assembles the best deals for CVS, Walgreens and Rite-Aid.
Take a quick glance at these sites to see what is on sale at grocery stores and drug stores in your area. The savvy shoppers who post know how to combine coupons and deals to get items for free or next-to-nothing.
2. Use coupons from the paper — without ever cutting them
Most of the best coupons for groceries, toiletries and other household items admittedly come from the Sunday newspaper. This means if you really want to be effective at saving, you have to get ahold of these coupons. 
But that doesn't mean you have to spend your time cutting up papers: There are sites where you can buy pre-cut coupons, like The Coupon Clippers and even eBay. For example, you might buy a coupon for $1 off a 2-pack of Aunt Jemima waffles by paying just $0.12 — or a coupon for $0.25 off Bounty paper towels by paying $.08. At these prices, you can buy a bunch of different coupons — all for less than the cost of a newspaper.
Depending on the shipping method you choose, coupons could take anywhere from one to 10 days to get to you, so make sure you will be able to use them in a timely fashion.
A crucial caveat: Buying coupons only makes sense if you are sure the items are ones you know you want to buy, regardless of discounts. If you're budget-conscious (and environmentally-conscious) enough to use cloth towels instead of paper towels, for example, don't start buying paper towels now just because they are on sale. Creating new "needs" is the path to a busted budget.
3. Use coupons outside the grocery store
The best way to use coupons effectively is to combine them with store promotions. For example, drug stores often offer better deals on toiletries, laundry detergent and food when you combine coupons with sales.
Indeed, because warehouse stores like Sam's Club and Costco typically don't take manufacturer coupons, you can even beat bulk-buy prices by shopping drug store sales combined with coupons. 
Krazy Coupon Lady lists 18 items you can get better deals on at drug stores, including paper towels and toilet paper at CVS and laundry detergent at Walgreens. Drug stores frequently put these products on sale as loss leaders to entice people into their stores, or offer these products as part of special loyalty programs, like the CVS program where you get back "Extrabucks" (coupons that are cash equivalents you can spend in store).  
Now, don't go wild and start going to multiple stores every week to get the best deals. If you have to make a special trip, you could end up spending more on gas or the lost value of your time. But, if you can swing by the store on your way home from work, for example, it might make sense.
You should also search online for coupons of non-food stores you shop at any time you're about to run errands: It's easy to find discounts at retailers like Bed Bath & Beyond or Kohls by Googling "printable coupon" and the store name.
4. Be wary of programs that suck you in
When I was coupon shopping on a regular basis, one of my biggest obsessions was the rewards program at CVS. For example, on a given day I might get $5 in Extrabucks back if I spent $10 on paper towels. 
Many extreme couponers will "roll over" their Extrabucks, saving them up and spending them the following week — and so on and so on. During my extreme couponing days, I carried around a big envelope full of Extrabucks. It felt great to check out, spend only a few cents and still get to take home a cart full of stuff. But there was a big catch.
In order to keep rolling over Extrabucks before they expired, I had to snag "deals" every week. That meant buying stuff I didn't truly need or want, just because they were cheap — resulting in closets full of useless items.
Diabetes blood sugar monitors used to be a "great" buy, for example, because I could use a manufacturer coupon to get the $20 monitor for free — and then get back $10 in Extrabucks on top of that. I was literally getting paid $10 for each one, and unsurprisingly ended up with a whole bunch. 
One big problem? No one I knew actually had diabetes! Thankfully, I was able to donate the monitors, but the time I spent buying them might have been better spent.
The lesson: Just buy the items you actually want on sale at stores that offer expiring "loyalty" bucks — and then immediately spend your "bucks" on your next transaction while still in the store. For example, if you buy $10 of paper towels and get $5 in Extrabucks back, do a second transaction to buy your milk and eggs for the week using that $5.
5. Buy just enough — until the next sale
Extreme coupon shopping can lead to hoarding because it's tempting to pick up 20 free bottles of salad dressing or 20 free tubes of toothpaste when you get these items gratis with a coupon. But then you have to store all that stuff, and that can get a little ridiculous. 
Let's just say that my guests used to be puzzled by the plastic bins of 50 tubes of toothpaste in my guest room. And I still have a lifetime supply of razors — even though it's been about eight years since I became "famous" for quitting the coupon craze.
Instead of nabbing 20 of something, just buy what you need to last until the next time the item is on discount. After all, sales typically run on a cycle, so you should be able to get a similar deal in about six to twelve weeks; just watch store flyers for a few weeks until you learn their particular cycle.
Finally, remember: If something is free and you have extra coupons and want to buy a few extras to donate, that's great! But make sure you actually do make the donation so you don't clutter up your house with useless items.
Then, record the donation — so you can get tax deductions for it later on.
Sign up for The Payoff — your weekly crash course on how to live your best financial life. Additionally, for all your burning money questions, check out Mic's credit, savings, career, investing and health care hubs for more information — that pays off.