The rate of overdose deaths in the US has more than doubled since 1999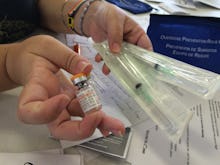 A new report, released this week by Centers for Disease Control and Prevention, reveals some startling numbers about overdoses in the U.S. According to the CDC, the rate of deaths from drug overdoses has more than doubled since 1999. It was up from 6.1 fatal overdoses per 100,000 people in 1999 to 16.3 fatal overdoses per 100,000 people in 2015 — meaning the rate of fatal overdoses in 2015 was 2.5 times what it was in 1999.
Earlier data released by the CDC has indicated that more than six out of 10 deaths from drug overdoses involve opioids. Caleb Alexander, co-director of Johns Hopkins Center for Drug Safety and Effectiveness, told ABC News on Friday that the new CDC report indicates that number of deaths from opioid-related overdoses is rising at an "incredible rate." 
"Each year I think it's hard to imagine it getting much worse and yet last year we had the highest number of deaths on record," Alexander said. 
The CDC report revealed that overdose deaths rose the highest among adults between the ages of 55 and 64, and the population that saw the greatest increase in fatal overdoses was white people, according to the report.
The states with the highest rates of overdose death in 2015 were West Virginia, New Hampshire, Kentucky and Ohio.