Muhammad Ali Jr. was reportedly detained for hours at a Florida airport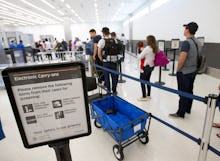 Muhammad Ali Jr., the son of the late, famous boxer, was reportedly detained at a Florida airport for hours earlier this month – and, according to friend and attorney Chris Mancini, officials asked him again and again if he was Muslim.
Mancini told the the Louisville Courier-Journal that Ali Jr. and his mother, Khalilah Camacho-Ali — who was Muhammad Ali's second wife — were returning home from a Black History Month event in Jamaica on Feb. 7 when they were stopped by customs officials at Florida's Fort Lauderdale-Hollywood International Airport. 
Mancini told the Courier-Journal that Camacho-Ali was released, reportedly after showing officials a photograph of herself with Muhammad Ali — but her son was allegedly held for close to two hours while officials asked him about his religion, his name, and his place of birth, Mancini said.
Ali Jr. was born in Philadelphia in 1972, the Courier-Journal reported. Mancini said that the family now believes that Ali Jr. was detained as a result of President Donald Trump's de-facto "Muslim ban" — the executive order signed in January that banned citizens from seven Muslim-majority nations from entering the U.S. and led to confusion at airports across the U.S.
"To the Ali family, it's crystal clear that this is directly linked to Mr. Trump's efforts to ban Muslims from the United States," Mancini told the Courier-Journal. "Imagine walking into an airport and being asked about your religion ... This is classic customs profiling."
Ali Jr. and his family are reportedly considering pursuing a federal lawsuit, Mancini told the Courier-Journal.