This 16-year-old Canadian girl helped American conservatives take down Milo Yiannopoulos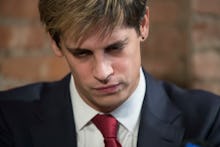 A 16-year-old Canadian girl known only as "Julia," who is keen on American politics but not keen on President Donald Trump and the burgeoning white nationalist alt-right movement, is the person responsible for finding the video of Yiannopoulos seemingly defending pedophilia, according to a report from Vox. 
According to Vox, Julia dug to find the video with conservative Twitter account @ReaganBattalion after she caught wind that Yiannopoulos would be speaking at the 2017 Conservative Political Action Conference. Julia, whose identity Vox kept secret in order to protect her from harassment, is not a fan of Yiannopoulos' brand of conservatism.
"I see Milo as this embodiment of the awfulness you see over the past few years with the general tilt of millennial conservatism," Julia said to Vox. "It's diverged from this traditional conservatism so much. You've seen it essentially become full of awfulness and all about attacking the left and not about actual principles. It has nothing to do with conservative ideology so much as it has with opposing the leftists, SJWs, and so on and so forth."
According to Vox, Julia was alarmed with Yiannopoulos' rise and, upon discovering that he would take the stage at CPAC, remembered hearing him appear on an obscure podcast defending "13-year-olds" having sex with older men. Once she found the July 2016 episode, she shared it with @ReaganBattalion, who eventually tweeted out the clip along with the handle of Matt Schlapp, chair of the American Conservative Union, the group behind CPAC.
"I thought it would only get, like, 200 retweets," Julia told Vox. "I had no idea that it would blow up to the extent that it did." 
Vox confirmed through screenshots from both Julia and @ReaganBattalion that the exchange occurred. 
With @ReaganBattalion's audience, the clip garnered thousands of retweets and, within hours, CPAC disinvited Yiannopoulos from its stage and the Breitbart editor lost his book deal with Simon and Schuster. 
Julia's mom told Vox that her Canadian family is "more libertarian than anything," but that they were "devastated to see that Orange Julius win." They are also weary of the rise of reactionary conservatives like the provocative Yiannopoulos.  
Yiannopoulos resigned from Breitbart in a Tuesday afternoon press conference in which he said "going bankrupt is worse" than experiencing sexual assault as a 13-year-old. Prior to his resignation, he was known for his particular flavor of firebrand conservatism, which included mocking transgender women and virulent Islamophobia. Only a few days prior to his downfall, Yiannopoulos was riding high with a chummy appearance on Real Time with Bill Maher in which he gleefully gabbed with the host before being told "go fuck yourself" by comedian Larry Wilmore.