Mike Pence tweeted Nicaraguan flag instead of Israeli flag to show Jewish people he cares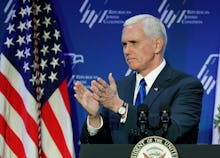 While President Donald Trump has learned how to master Twitter, Vice President Mike Pence still has his struggles. The VP and known homophobe began Black History Month by praising Abraham Lincoln on Twitter and is now closing out the month with another snafu. 
On Friday night, in a since-deleted tweet, Mike Pence tweeted out his support for American Jews and Israel but swapped out the Israeli flag, which prominently features a Star of David, with the Nicaraguan flag, which has similar white and blue stripes and no Star of David. 
Fortunately, screenshots last forever and a few people captured the mistaken tweet.
This led to some gentle ribbing on Twitter, of course. 
Here are the two flags, for reference: 
Pence's snafu represents another misstep in this administration's relationship with the Jewish community. In January, Trump's statement on Holocaust Remembrance Day failed to include any reference to Jewish people. During Trump's bizarre 80-minute press conference on Feb. 16, he also berated a reporter who asked a question about the president's plan to fight the rise in anti-Semitism. 
Pence's tweet probably doesn't help Trump's relations with the community. What's most surprising, though, is that Pence couldn't recognize the Star of David. It's the same star his running mate used when he tweeted out a meme calling Hillary Clinton the "most corrupt candidate ever!"