Bernie Sanders tweeted a sick burn at Donald Trump about his inauguration crowd size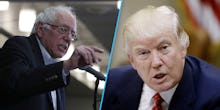 Bernie Sanders? More like Burnt-ya Sanders. 
On Saturday morning, President Donald Trump tweeted that his followers should hold their own rally, even though his presidential campaign was a series of rallies that continued into his presidency with a rally last weekend in Melbourne, Florida. 
"Maybe the millions of people who voted to Make America Great Again should have their own rally," Trump tweeted. "It would be the biggest of them all!" 
"They did," Sanders tweeted. "It wasn't."
Accompanying Sanders' tweet were side-by-side pictures of Trump's inauguration crowd alongside a more crowded picture of Washington, D.C., during the Women's March, which took place the day after the inauguration. Mic previously reported that the Women's March outsized Trump's inauguration. 
Trump has been more than a little sensitive about the size of his inauguration crowd, which was also objectively smaller in comparison to crowds for Obama's inauguration in 2009. Trump forced press secretary Sean Spicer to defend the size of his inauguration crowd at his very first press conference, in which he berated the press. His conference led Kellyanne Conway to utter the famous defense that Spicer had offered "alternative facts" on the inauguration size.