Pulse survivors, activists shocked at Univision's plan to air Pulse shooting re-enactment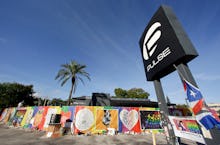 Univision has doubled down on its plans to go ahead with airing a segment on Saturday evening entitled "Baño de Sangre," or "Blood Bath," on its show Crónicas de Sabado. The segment is a graphic re-enactment of the June shooting at Pulse nightclub in Orlando, Florida, where shooter Omar Mateen killed 49 clubgoers and himself. 
According to NBC News, Univison has taken down the trailer for the segment from social media after complaints, even though it intends to air the segment. 
"It's a journalistic project," Jose Zamora, senior vice president of strategic communications, news at Univision told the Orlando Sentinel. "People are upset by a promo. That promo doesn't represent the entire program."
Univision had also previously tweeted a defense of the segment on Thursday, calling it "deeply respectful" and "faithful to the facts." 
The trailer upset Angel Santiago Jr., a survivor of the Pulse shooting who has spoken publicly many times about his experience. Santiago saw the trailer at home while browsing Facebook, which automatically played the video as he scrolled past it. 
"When I realized what it was, I couldn't believe it. Like, is this legit?" Santiago said in a phone interview.
Santiago said the now-deleted trailer shows a gunman inside the club, opening fire and even shooting someone in the back while they were on the ground. They even recreated scenes from inside the bathroom, which is where Santiago was during the shooting. He clicked it off without viewing the whole trailer. 
"I didn't like it at all," Santiago said. "I didn't want those visuals stuck in my head again. I was very upset about it." 
Santiago said he felt it was inappropriate whether the re-enactment took place less than a year later or even five years later. 
"How are we as survivors supposed to heal and move on when the media reminds us of what happened to us that night and in such a vivid way like that?" he said. "It's disrespectful and distasteful. It shows no regard for those who are still alive and who went through it." 
Ricardo Negron, another Pulse survivor, called the trailer "unnecessary" and "triggering" in a phone interview. 
"They claim that they do it in a very professional and journalistic and respectful manner, but that trailer is the complete opposite," Negron said. "It seemed like a trailer for a cheap horror movie." 
Negron works at the Hispanic Federation, an organization that provides mental health services for survivors and families of survivors of the Pulse shooting. According to Negron, the trailer has already caused a rise in crisis management services in Orlando. He told Mic that another organization, Two Spirit Health Services, contacted Hispanic Federation for help staffing up crisis hotlines with more bilingual speakers. 
"It's disrespectful and hurtful that it's coming from a Hispanic network when they know the Hispanic community was the most affected in terms of the lives that were taken," Negron said. Ninety percent of those who lost their lives at Pulse were Latino. 
Barbara Poma, owner of Pulse, posted about the segment on Facebook on Thursday. 
"Shame on Univision!" she wrote in a post on the television show's Facebook page. "The lack of respect and humanity for these grieving families and traumatized survivors is incomprehensible." She called for Univision not to air the segment.
Christopher Cuevas, the co-founder and executive director of QLatinx, an advocacy group for LGBTQ Latinos in the Orlando area, said his stomach started to turn when he saw the trailer. His organization sent a letter to Univision denouncing its decision to air the segment.
"I was in disbelief that this was something that could be recreated," Cuevas said in a phone interview. "It's disgusting that there's this profiteering off of trauma." 
He added, "Spanish-speaking people depend on Univision to provide them with resources and equip them with the knowledge they need to be informed. This trauma-inducing spectacle is breaking those bonds of trust." 
A petition from the community to Univision has also garnered 1,600 signatures.