Arizona teacher resigns after tweet suggesting immigrants should be killed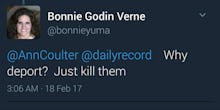 After making a series of violently xenophobic comments on Twitter, Arizona teacher Bonnie Verne has tendered her resignation from Pardes Jewish Day School in the state's town of Scottsdale, KTAR reports. 
Though her account has since been deleted, the screenshots live on forever for the internet to see. 
"Why deport? Just kill them," Verne wrote in response to an Ann Coulter tweet. She later followed up with, "Or we can just put a bullet in their head immediately." 
Once the tweets went viral, people began to leave comments on the school's Facebook page, along with one- and two-star reviews.
The school later released a statement saying that Verne had decided to leave her job teaching third-grade students. She'd been at the school 12 years. 
"[Verne] deeply regrets having in recent days made comments using her personal social media account that were inappropriate, offensive and unbefitting of a Pardes teacher," the statement read.
The statement, published in its entirety on AZFamily.com, also said that, while it supported Verne's freedom of expression, her comments "have no place in our school." 
Once the school decided to give Verne the boot, people began to leave positive comments toward the school again — and some five-star reviews, as well. 
"I have nothing but respect and admiration for you and confidence in the future of the children attending your institution," wrote one reviewer. 
Another wrote, "As the grandfather of three Muslim children I wish these children and their families long lasting peace and prosperity all the days of their lives."
When it comes to immigrants' well-being, Arizona does not have the best reputation. In 2010, the state passed a virulently anti-immigrant law, SB 1070, also known the "papers, please" law. The law required police to find out the immigration status of people they detain if there is "reasonable suspicion" they are undocumented.