Grassroots progressives aren't happy about Tom Perez becoming DNC chair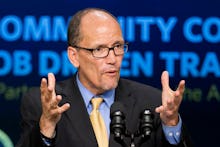 ATLANTA — Rep. Keith Ellison (D-Minn.) offered his full support for incoming Democratic National Committee Chair Tom Perez immediately after narrowly losing to Perez in the race to lead the Democratic Party. But Ellison's supporters are more mixed on whether or not they can get behind the new chairman.
"Party for the people, not big money!" A crowd of Ellison supporters defiantly chanted over interim DNC chair Donna Brazile as she announced Perez's victory. Only after a prolonged period of shouting did the crowd finally allow the proceedings to continue.
The race between Ellison and Perez for DNC chair had come to symbolize the divide between the progressive and establishment wings of the Democratic Party. When Ellison first announced his candidacy, he was immediately endorsed by high-profile progressives like Bernie Sanders and Elizabeth Warren as well as by top leaders like Senate Minority Leader Chuck Schumer.
The early embrace of Ellison, an unabashed progressive who endorsed Bernie Sanders in the 2016 presidential primary, was seen by many as a sign that the Sanders wing of the party would play a bigger role in Democratic leadership going forward.
But when former Labor Secretary Tom Perez announced his candidacy, progressives saw it as a sign that the old leadership of the Democratic party was not going to give them a seat at the table.
"It's a testament to the arrogance of the Clinton wing of the Democratic Party that they couldn't just let Keith have this," said one former DNC delegate who helped craft the 2016 DNC platform. "Instead of picking a person with experience running successful campaigns, they installed someone from the same part of the party that lost over 1,000 seats in the past decade."
Progressive grassroots organizers across the country channelled that same anger and frustration. In a post on Medium, millennial leaders from several major grassroots organizations, including Our Revolution, #AllofUs and the Working Families Party made it clear they are not happy with the outcome.
"[T]oday's outcome means Democrats are still unwilling to break with corporate donors and be the unapologetically progressive Party of the People that America needs," they wrote. "We renew our demand for new leadership in the Democratic Party from the local to national level."
Other organizers expressed a similar desire to keep pushing the party from within.
"Today they chose to continue with the status quo." said Justin Jacoby Smith, a digital organizer with Democracy Spring who came to the DNC meeting in Atlanta to support Ellison. "We're going to continue to fight inside the Democratic Party to make it a real party of the people."
After his victory, Perez made an explicit attempt to try and placate Ellison supporters by giving Ellison the position of deputy chairman of the DNC. But activists say that won't be enough to keep them at bay.
"The deputy-chairman bone they threw him means nothing. It's worthless," said Winnie Wong, cofounder of the group People for Bernie. "He's not even Joe Biden," she joked, referring to the lack of power in the number-two position.
Not every one of Ellison's supporters expressed the same level of outrage. In particular, Ellison backers with strong ties to the party struck a more conciliatory tone, saying they were willing to give Perez a chance.
"Folks are going to have to wait and see what he does at the DNC," said Jeff Weaver, former campaign manager for Bernie Sanders. "Actions speak louder than words, and we'll see if Tom Perez reaches out. If he puts forward a bold progressive agenda, if he makes clear that everyone is welcome into the party — then I think people will take a second look."
In terms of their respective political stances, there is little daylight between Perez and Ellison. Both have reputations as strong progressives with a record of fighting for minority and working-class interests within the party. But their policy records were less important to organizers than the people that they think Perez will listen to as chair.
This was not an ideological battle between a corporate Democrat and a Warren-wing Democrat," said Adam Green, director of the Progressive Change Campaign Committee, which supported Ellison's candidacy. 
Green's organization pushes for progressive change, using a mix of grassroots organizing and legislative lobbying, putting Green at the nexus of left-affiliated insiders and activists on the ground. "The reason that so many grassroots organizations supported Keith is because he has been in the trenches with the progressive activist base for years and has his finger on the pulse of the modern-day resistance playing out in the streets.
When asked if he had confidence that the coalition of people around Perez would push him in the right direction, Green paused, sipped from a bottle of water and took a long moment to think before responding, "Let me get back to you on that."