Remy Ma's Nicki Minaj diss track "ShETHER" sent Twitter into a frenzy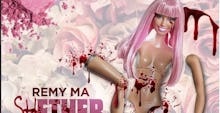 If you didn't hear yesterday, Bronx rapper Remy Ma fired the shot heard 'round the world at superstar rapper Nicki Minaj in her epic seven-minute diss track, "ShEther."
The track laid down rumor after rumor about Minaj's butt, her relationships with several prominent hip-hop figures and even called into question whether she uses a ghostwriter on her raps. 
Though Minaj is generally beloved online for both her raps and her distinct brand of feminism, Remy Ma's bars made everyone #TeamRemy, at least temporarily.
Homemade videos about the beef made their way online, as well. 
Some people were torn about which rapper to side with, however.
Even the post-diss-track fallout garnered Twitter attention. After the track dropped, rather than fight with Remy Ma directly, Minaj went after rapper Trey Songz, who Remy Ma said Minaj had previously slept with. 
Twitter users were quick to point out that Minaj had seemingly run out of things to say to Remy. 
Given that President Donald Trump has made Twitter a place ridden with anxiety, thank you Remy Ma for making it enjoyable, even if it was only for a few hours.
And don't let this beef distract you from the real problems, y'all. 
Listen to the diss track below.