Donald Trump will not attend the White House Correspondents' Dinner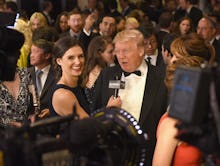 Escalating his feud with the press, President Donald Trump announced in a tweet on Saturday that he would skip the White House Correspondents' Dinner on April 29. 
"I will not be attending the White House Correspondents' Association Dinner this year," he wrote. "Please wish everyone well and have a great evening!"
The move is not necessarily surprising: In a recent tweet, the president deemed a number of legitimate news outlets — the New York Times, NBC, ABC, CBS and CNN — "fake news," calling them "the enemy of the American people." Given that the White House Correspondents' Dinner raises money for journalism scholarships, and given that Trump has been quite clear on his hatred of journalists, the so-called "nerd prom" isn't going to be high on his list of weekend events to attend. 
As CNN reported, the festivities surrounding the dinner have already been dampened by a Trump presidency. Vanity Fair and Bloomberg canceled their joint after-party, and the New Yorker called off its April 28 celebration.
Relations between the administration and the White House Correspondents Association are also rocky at the moment, with the WHCA protesting Sean Spicer's exclusion of a number of reputable outlets, including CNN and the New York Times, from an off-camera press briefing in his office on Friday. Spicer extended an invitation to a handful of conservative news outlets, like Breitbart, while blocking those whose coverage had not flattered the president. According to CNN, this left some media companies reconsidering their plans for the dinner.  
As NPR reported, the White House Correspondents' Dinner has been attended by every president since Ronald Reagan in 1981, who had a very good excuse for his absence: He was convalescing after an assassination attempt, and made his remarks by phone instead. Jimmy Carter missed the dinner in 1980 and 1978, while Richard Nixon — whose administration, NPR pointed out, harbored similarly paranoid views of the "enemy" press — missed it in 1972 and 1974. 
Still, according to a statement from WHCA president Jeff Mason, the dinner will go on. The event "has been and will continue to be a celebration of the First Amendment and the important role played by an independent news media in a healthy republic," Mason said. 
The dinner is usually an opportunity for the president and celebrities to make a few well-meaning jokes about the press while also acknowledging its value. It is hard to imagine Trump lobbing a light-hearted jab at the press. It is hard to imagine that, with Trump on the mic, the evening wouldn't devolve into the reported "firing squad" his first media sit-down did. Trump has, in the past, attended the dinner and heard firsthand the jokes made about him by President Barack Obama and Seth Meyers. It didn't go well. According to one theory, his past Correspondents' Dinner humiliation might just be the reason he ran for president in the first place.