Transgender woman Chyna Doll Dupree shot and killed in New Orleans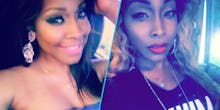 Transgender woman Chyna Doll Dupree was shot and killed outside of a shopping center in New Orleans Saturday night, according to the Times-Picayune.
Dupree was also a drag performer. Though the Times-Picayune did identify her as trans, it also chose to "dead name" Dupree, meaning it used her birth name in the story. 
An anonymous friend told the Times-Picayune that Dupree was visiting her family in New Orleans to celebrate Mardi Gras.
Dupree's friends and loved ones shared messages to her on Facebook in the hours shortly after her death. 
"My heart breaks as this community must find a way to honor you in death and begin to move forward," one person wrote. "The stage will never be the same!" 
"Chyna Gibson was my ride or die. I watched her grow into a beautiful woman, so proud of the person she became," another person wrote on Facebook. "This hurts like hell."
People also shared videos of Dupree's dance routines in the wake of her death. 
Dupree's is the fifth reported killing of a transgender woman in 2017 and the third in February. Mic previously reported on the deaths of Keke Collier in Chicago and JoJo Striker in Toledo, Ohio. 
Feb 26, 2016 8:33 p.m.: This story has been updated to reflect the fact that Dupree went by the name Chyna Doll Dupree personally and professionally.