Hillary Clinton and Michelle Obama offered spots on 'Dancing With the Stars'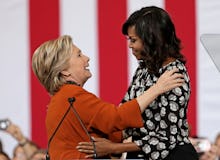 Both former Democratic presidential candidate Hillary Clinton and former first lady Michelle Obama have long and shiny résumés. Both are reportedly working on books.  Both are said to be plotting next steps in furthering closely held social and political initiatives. Suffice it to say, neither will have much time to star in reality television shows. 
Nonetheless, according to US Weekly, both Clinton and Obama have been offered spots on ABC's Dancing With the Stars, a television showcase that pairs celebrities with professional dancers. Both reportedly said no. Objectively speaking, this seems like the sensible choice. 
When celebrities participate in reality TV competitions, like say DWTS, it usually seems like an effort to revive a flagging career. Neither Clinton nor Obama need a professional adrenaline shot. While the 2016 election did not turn out as either of them likely planned, both Clinton and Obama have enough on their plates, thankyouverymuch.
Clinton has kept an admittedly low profile since Nov. 9, but she is still fighting for a female future. Obama, who has actually been known to do the occasional dance-y guest spot and kill it, has a foundation to run. And then there are the aforementioned books and causes that demand a person's time and attention. 
Plus, when it comes to self-promotion via reality TV franchise, well, that's really more our sitting president's area of expertise. 
Mic contacted Dancing With the Stars representatives to see whose idea this was and whether or not the same invitation was extended to former presidents Bill Clinton and Barack Obama. The reps declined to comment.
Feb. 26, 2017, 5:24 p.m.: This article has been updated.