How much is the 2017 Oscars swag bag worth? Here's everything Oscars attendees get.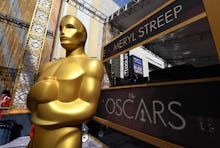 Though only a select few will take home an Academy Award at the Feb. 26 ceremony, even the losing nominees will come back with something pretty great — a swag bag worth six figures.
The gift bags, which company Distinctive Assets distributes to all nominees in the best director and acting categories, are estimated to be worth over $100,000, Distinctive Assets founder Lash Fary told Business Insider.
"People are excited — is the word I would use — judging from the number of calls we get from people's assistants and agents wanting to make sure we have the correct address to deliver the bag," Fary told CNN. "When people hear there's a gift bag worth six figures being given out, we actually get calls from those not in the categories we gift."
There is a downside, however: Items in the gift bag, which include everything from jewelry to luxury vacations, are eligible to be taxed.
Here's what Oscar nominees will be treated to this year, as reported by Business Insider:
Travel
• A three-day private mansion stay at the Lost Coast Ranch in Northern California, for the nominee plus up to 10 friends
• A five-night, six-day Hawaiian vacation at Koloa Landing Resort in Poipu
• Two three-night Italian vacations in suites at Grand Hotel Tremezzo in Lake Como and Grand Hotel Excelsior Vittoria in Sorrento
• A week-long stay at Southern California's Golden Door Spa, which donates 100% of its profits to combat child abuse
Clothing & accessories
• A 14-karat gold and diamond-encrusted bracelet from YogaJewelz
• A personally curated wardrobe from Belldini
• An anteater-patterned handbag from Jules k
• A pole star constellation brooch and pendant from Namira Monaco
• Stud earrings from designers Park and Buzz
• Clothes from the Happiest Tee
Home goods
• A Haze V3 dual chamber vaporizer 
• A dual-layer pillow from Casper ($75)
• An Oomi starter kit, which helps transform a home into a smart home ($599)
• Slimware plates, which emphasize portion control
• A Rest Rite sleep positioner, which helps to prevent snoring ($16.99)
Beauty & health
• ChapStick Total Hydration Moisture + Tint tinted lip balm ($4.99)
• A year's supply of luminosity skin serum from Healing Saint, along with a hair follicle stimulant that claims to prevent hair loss
• Complete beauty collection from Woosh
• A Mous fitness bottle, which claims to minimize bacteria accumulation ($28)
• Elvie's limited edition pelvic floor exercise tracker and app ($199)
• A Dandi underarm patch that prevents against sweat marks (£7.99)
• Hydroxycut Platinum weight loss supplement 
• Medice foot cream ($25)
• Lizora skin care products
• A 10-year supply of foundation and moisturizer from Oxygenetix
• 10 personal training sessions with celebrity trainer Alexis Seletzky
Food & drink
• Rouge Maple 100% pure organic maple syrup ($50)
• Drunken fig cake bites from Chocolatines
• A monthly case of Opal apples, which claim to not get brown after slicing, from October through July
• Chubby Chipmunk hand-dipped chocolate
• Nitro-tech Crunch protein energy bars from MuscleTech
• A jar of pecans from the National Pecan Shellers Association
• Advice on nominee's wine collection from personal sommelier Lelañea Fulton of The Loving Somm
Miscellaneous items
• A customized 64-count box of Crayola crayons with the nominee's name and photo on the front ($12.99)
• A handmade wooden box from Bangarang with 199 cards featuring positive actions and quotes ($40 CAD)
• A personal CPR kit, which claims to allow adults to learn hands-on CPR in just 20 minutes ($38.50)
• The girl empowerment-focused children's book Curlee Girlee by Atara Twersky
• The board game Watch Ya' Mouth ($19.99)
• A piece of fine art by artist Reian Williams
• A SweetCheeks massage mat ($99)