French President Francois Hollande responds to Trump's Paris dig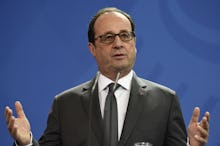 President Donald Trump threw some shade at Paris on Friday, suggesting in his speech to the Conservative Political Action Conference that the French capital had been ruined by terrorist attacks. On Saturday, French President Francois Hollande hit back.
"There is terrorism and we must fight it together," Hollande said, according to Reuters. "I think that it is never good to show the smallest defiance toward an allied country. I wouldn't do it with the United States and I'm urging the U.S. president not to do it with France."
"I won't make comparisons, but here, people don't have access to guns," he added. "Here, you don't have people with guns opening fire on the crowd simply for the satisfaction of causing drama and tragedy."
In his CPAC address, Trump encouraged listeners to "take a look at Nice and Paris." He cited his friend "Jim," "a very substantial guy" who had called off his annual visits to Paris. According to Jim, "Paris is no longer Paris" thanks to terror attacks on the city, most notably the coordinated assault on Nov. 13, 2015. Nice was the target of a terrorist attack on July 14, when a truck barreled into a Bastille Day celebration there, killing dozens of people. 
Trump insinuated that Paris and Nice had been ruined by what he called "radical Islamic terrorists." His rhetoric was likely intended to curry favor for his travel ban, which would block immigration from seven Muslim-majority countries, even though no refugee has yet committed a fatal terrorist attack on U.S. soil since the nation adopted standards for accepting refugees in 1980.
What has proved far more deadly here is the preponderance of guns: As Guardian writer Gary Younge pointed out, it's far more likely for an American to be killed by a toddler with a gun than in a terrorist attack. Between 2001 and 2014, the U.S. had 440,095 gun deaths and 3,412 deaths (including the 9/11 terror attacks) that resulted from terrorism, according to CNN.
World leaders have widely criticized Trump's travel ban, condemning the divisions it stands to create in international politics. After Trump signed the executive order announcing the ban, French Foreign Minister Jean-Marc Ayrault tweeted that "welcoming refugees is a duty of solidarity. Terrorism doesn't have a nationality, discrimination is not an answer."