A suspicious Sean Spicer asked 12 aides to hand over their phones — they leaked that, too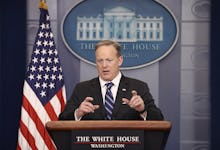 White House press secretary Sean Spicer may have become so concerned about leaks that he's targeting his own staff for sweeps, Politico reported on Sunday.
According to Politico, after Spicer became aware information from a planning session involving about 12 staffers had leaked to members of the press, he gathered the group in the presence of several White House lawyers and ordered them to offer up access to their cell phones.
Spicer "explicitly warned staffers that using texting apps like Confide — an encrypted and screenshot-protected messaging app that automatically deletes texts after they are sent — and Signal, another encrypted messaging system, was a violation of the Presidential Records Act, according to multiple sources in the room," Politico wrote.
Numerous embarrassing stories have leaked out of President Donald Trump's administration, but few offices have been as tense as the White House's communications division. According to Politico, the recent selection of seasoned Republican operative Mike Dubke to take the latter job itself became a point of contention when news of the hire leaked early.
Trump's White House has in general been prone to a wide variety of leaks, from details of the president's hostile phone calls with foreign leaders to details of a phone call between former National Security Adviser Michael Flynn and the Russian ambassador to the U.S. So Spicer is in good company. 
But news of this particular maneuver will probably not bode well for Spicer's temperament, given Politico also reported the press secretary "has repeatedly berated his aides, launching expletive-filled tirades in which he's accused them of disclosing sensitive information to reporters and saying that they've disappointed him."