What does the Oscars blue ribbon mean? Here's the subtle way stars are making a statement.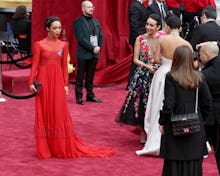 On Sunday, stars didn't walk the 2017 Oscars red carpet just looking to impress fashion fans with gorgeous gowns and tuxes — they wanted to make a political statement, too. 
From the first red-carpet arrivals, it was clear a light blue ribbon worn to show support of the American Civil Liberties Union would be the night's must-have accessory. 
"This symbol of solidarity with the ACLU acknowledges the commitment of those on the front lines — in the courts, legislatures and in the streets — who are working to ensure that our precious freedoms and values are preserved," the organization said in a press release.
It was first seen on actress Ruth Negga, nominated for best actress for her performance in Loving. Negga paired it with a custom red Valentino lace gown, which made the blue ribbon pop. 
After Negga, Lin-Manuel Miranda — nominated for best original song for Moana's "How Far I'll Go" — walked the red carpet with his mom as they both rocked the blue ribbon. 
Asked on the red carpet why he chose to wear the ribbon, Miranda said: "Because [the ACLU] are fighting incredible fights right now for our American ideals."
Then came Barry Jenkins, who's up for best director for his film Moonlight. 
Model Karlie Kloss — who just so happens to be dating Jared Kushner's brother — was seen sporting the blue ribbon, too, on the hip of her white Stella McCartney dress. 
The ACLU has been seen as a driving force against the Trump administration's anti-immigration policies, notably asking for an injunction to challenge President Donald Trump's travel ban.  
Politics on the Oscars red carpet certainly isn't anything new, though. In 2016, some stars arrived wearing a bracelet to raise awareness of gun violence. This year, however, feels different — more pressing, perhaps. 
During awards season, stars haven't been shy about voicing their political opinions with the help of fashion. Actress Lola Kirke wore a "Fuck Paul Ryan" pin at the Golden Globes in January; actor Simon Helberg from The Big Bang Theory walked the red carpet at the 2017 SAG Awards with a sign that read "Refugees Welcome." 
With so many of the evening's major stars making political statements on the red carpet, we can't help but think there'll be a lot more to come before the night is over.
Mic has ongoing Oscars coverage. Please follow our main Oscars hub here.