Oscars 2017: Justin Timberlake sings "Can't Stop the Feeling," endures painful N'Sync joke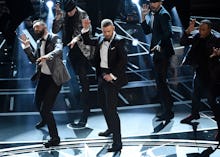 Justin Timberlake brought some Top 40 flair to the Oscars stage on Sunday, running through his summery Trolls hit "Can't Stop the Feeling." 
He mixed in a bit of "Lovely Day" by Bill Withers during the song's breakdown, hopping off the stage and into the crowd to lead everyone in perhaps the biggest star-powered soul clap in history. 
Yet it didn't go entirely smoothly for Timberlake. After finishing his song, he tossed the show over to host Jimmy Kimmel, who complimented Timberlake with a groan-worthy N'Sync joke. It was such a great performance, Kimmel said, that if N'Sync was watching, they'd "probably let you back in the band." 
Kimmel got nothing but a hilariously blank, cold stare from Timberlake in return.
Timberlake's "Can't Stop the Feeling" is up for best original song against "City of Stars" and "Audition (The Fools Who Dream)" from La La Land, "How Far I'll Go" from Moana and "The Empty Chair" from Jim: The James Foley Story. 
If Timberlake wins, he'll be one step closer to EGOT status, having already won four Emmys and 10 Grammys. Only a Tony will remain. If you hear rumors about a Broadway run for Timberlake in the works, you'll know what he's up to.
Watch the full video of the performance below:
Mic has ongoing Oscars coverage. Please follow our main Oscars hub here.