John Legend performs a moving 'La La Land' medley at the 2017 Oscars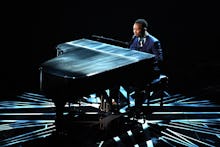 La La Land headed into the 2017 Oscars as one of the most divisive films of the night. Adored by many for its stylized vision of Hollywood's Golden Age, despised by others for being really mediocre, it arrived with the most nominations and will likely leave with some of the biggest awards. 
John Legend's medley likely won't change many minds, but it did make for one of the evening's most delicately choreographed and moving performances.
Legend ran through a medley of songs from La La Land, going back and forth between "City of Stars" and "Audition (The Fools Who Dream)."
Legend stayed seated singing at the piano, while several pairs of dancers recreated some of the iconic shots from the film, including Emma Stone and Ryan Gosling's dream sequence dance across the cosmos.
La La Land received 14 Oscar nominations, tied with Titanic and All About Eve for the most nominated in history. It can't take home all 14, however, as it was up against itself for best original song, with both "Audition (The Fools Who Dream)" and "City of Stars" nominated in the category. ("City of Stars" won.)
Despite being heavily favorited to win big, La La Land is not without its fair share of controversy. Several critics and pundits pointed out the problematic aspects of the film's white savior narrative, which positioned Ryan Gosling's character as trying to preserve traditional jazz, a historically black art form.
Legend spoke to that conflict in a recent interview with Mic, saying that if we expect La La Land to be the definitive jazz film, "then it does underrepresent the influence of black people."
"But if it's just a great film from one filmmaker's point of view, it's great at doing that," Legend said.
After his performance, Legend tweeted out a link to a download of his medley on Apple Music.
Watch Legend's full performance below:
Mic has ongoing Oscars coverage. Please follow our main Oscars hub here.