Oscars 2017: The internet loses it over Janelle Monáe's sparkly Cinderella dress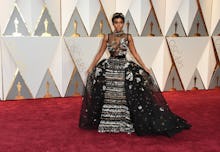 Well, at least now we know who the belle of the 2017 Oscars ball is. 
Arriving in an elaborate Elie Saab gown featuring a mesh top and bedazzled skirt, it's clear Janelle Monáe did not come to play. 
Sticking to her favorite black-and-white palette, Monáe looked like Cinderella from the 22nd century. And she looked happy AF about it, too. 
"Your first Oscars and you're crushing it," red carpet cohost Michael Strahan told Monáe in reference to her show-stopping gown.
Monáe didn't skimp on her hair, either, wearing a crown of gold that made her look like a Greek goddess. 
Fittingly, Twitter erupted at the first sight of her. 
Her look was dramatic. It was stunning. It was interesting. It was art. 
Will this be the one to beat? We're betting on it.
Mic has ongoing Oscars coverage. Please follow our main Oscars hub here.