Jimmy Kimmel's 2017 Oscars opening includes digs at Donald Trump, Mel Gibson and others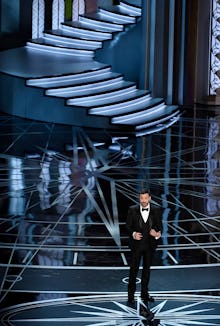 After Justin Timberlake opened the 2017 Academy Awards with a performance of his Oscar-nominated song "Can't Stop the Feeling" from DreamWorks' Trolls, Oscars host Jimmy Kimmel pulled no punches in his opening monologue. The late-night TV host also took timely digs at President Donald Trump and Oscar-nominated director Mel Gibson. 
Kimmel, who recently hosted the 2016 Emmy Awards, noted he was probably expected to "unite" people with his opening speech after a divisive year. 
"Let's just get something straight off the top," he said, pointing toward Gibson. "There's only one Braveheart in this room, and he's not going to unite us either." 
Kimmel then turned his attention toward the decade-long butt of his Jimmy Kimmel Live! jokes: frenemy Matt Damon. While the Damon-centric digs have grown tiresome over the years — there's only so many ways you can say you hate someone, especially when you don't really mean it — he kept it relevant by poking fun at Damon's much-maligned starring role in The Great Wall. 
And yes, Damon's ponytail in the film looked ridiculous. 
Of course, Kimmel also set his sights on Trump. Sprinkled throughout his monologue were jabs at how other countries probably hate America, though Kimmel was facetiously grateful for Trump's divisive rhetoric. 
"I want to say 'thank you' to President Trump," he added. "Remember last year, when the Oscars seemed racist?" 
Yes, the 2017 Oscars are considerably more diverse. But with a subtle jab, Kimmel made it clear there's still more headway to be made. 
"Black people saved NASA and white people saved jazz," he said, referencing best picture nominees Hidden Figures and La La Land, respectively. 
Kimmel concluded the opening monologue with a cheeky riff of actress Meryl Streep, who has famously drawn the ire of Trump — who tweeted in January that the actress was "overrated," despite her 20 Oscar nominations.
"She wasn't even in a movie this year, we just wrote her name in out of habit," Kimmel said. 
Kimmel closed with a final jab at our commander-in-chief and his propensity to tweet about anything he sees on television. "Some of you will [win tonight] and give a speech that the president of the United States will tweet about in all caps," he said.  
Naturally, this should include the 2017 Oscars, which — if Kimmel's opening monologue is any indication — is poised to be very political. 
Mic has ongoing Oscars coverage. Please follow our main Oscars hub here.