Oscars 2017: Emma Stone rocks pin in support of Planned Parenthood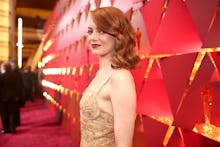 While stars like Ruth Negga and Lin-Manuel Miranda walked the 2017 Oscars red carpet wearing blue ribbons in support of the American Civil Liberties Union, Emma Stone decided to show her support of another organization that also stands at odds with the Trump administration: Planned Parenthood. 
At the top of Stone's golden Givenchy gown, right beneath her left strap, Stone wore a Planned Parenthood pin, which looks like two "P"s intertwined. 
Squint and you'll see it. 
Before the red carpet, Brie Larson posted a clearer picture of the pin. 
On Twitter, many were thrilled with Stone's support of Planned Parenthood, an organization under near-constant threat of defunding by Republicans in Washington. 
In addition to Stone, actress Dakota Johnson wore the pin on her handbag.
This isn't the first time Stone has used fashion to take a stand against Trump. In October, Stone posed in what she called her "Don't grab my pussy bow" blouse, a nod to Melania Trump famously wearing a pussy bow blouse to two presidential debates. Stone paired hers with a Hillary Clinton pin, too. 
Between Stone taking a stand for Planned Parenthood and stars like Negga and Miranda donning the ACLU ribbon, the 2017 Oscars red carpet stands as one of the most political to date. 
Mic has ongoing Oscars coverage. Please follow our main Oscars hub here.