Ava DuVernay remembered Trayvon Martin before the 2017 Oscars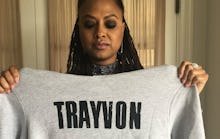 Ava DuVernay is using the 2017 Oscars to make a statement about the movement for black lives. 
Prior to the beginning of Hollywood's biggest night, the Oscar-nominated director for the documentary 13th tweeted out a reminder that today was the fifth anniversary of Trayvon Martin's death. The tweet included a picture of her holding up a hoodie with the words "TRAYVON" emblazoned across the front. 
"On my way to Oscars," the nominee wrote. "Taking a moment to remember Trayvon Martin. Our hoodies are still up and the movement is still strong. #OurSonTrayvon." 
Using fashion to bring attention to the #BlackLivesMatter movement is something that DuVernay has done before in her career. In December 2014, DuVernay and the cast of her Academy Award-nominated film Selma wore shirts saying "I can't breathe," the final words of Eric Garner, to the film's premiere.
Martin and Garner's deaths spurred the Black Lives Matter movement in the United States. National protests followed both of their death.