Oscars 2017: Giphy confused Viola Davis with Taraji P. Henson because nothing is sacred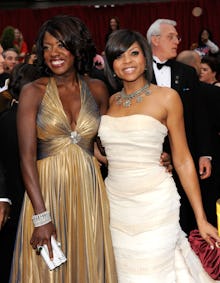 This is one gif that probably won't make you smile. 
During the 2017 Oscars opening medley by Justin Timberlake, Hidden Figures star Taraji P. Henson couldn't help but bust a move. But when gif creator Giphy captured the moment and tweeted it out, they mistakenly identified Henson as Fences star and three-time Oscar nominee Viola Davis.
"Viola Davis is literal perfection," read the tweet, accompanied by a picture of Henson getting her groove on. 
Sadly, awards season mix-ups of actors of color is nothing new. In September, the Emmys confused Oscar-winning actor Cuba Gooding Jr. with Empire star Terrence Howard — on Twitter. In December 2015, the Hollywood Foreign Press Association mixed up two Latina actresses — Gina Rodriguez and America Ferrera — during the Golden Globes nomination ceremony. Ferrera and Desperate Housewives actress Eva Longoria later made fun of the snafu on the 2016 Golden Globes stage. 
Maybe in the future, the two actresses can present an award — please make this happen — and laugh it off.