What Oscar did 'Suicide Squad' win?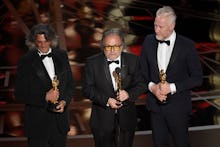 The third film in the DC Extended Universe, Suicide Squad, joined Man of Steel and Batman v Superman: Dawn of Justice in being generally maligned by critics. Still, despite a 26% on Rotten Tomatoes, the movie starring Will Smith and Margot Robbie went on to earn more than $745 million worldwide, enough to convince Warner Bros. to green-light a Gotham City Sirens spin-off. 
But that's not all the DC film accomplished.
At the 89th annual Academy Awards, Suicide Squad finally earned some artistic recognition, beating out fellow nominees Star Trek Beyond and A Man Called Ove for best makeup and hairstyling. You read that right, Suicide Squad is now an Oscar-winning movie. 
Like the first two films in the DCEU, Suicide Squad has remained divisive among fans and critics. As such, fans and critics have taken to Twitter to voice their opinions on Suicide Squad's Oscar win, many of them pointing out the films that have fewer awards.
Here are a few of the reactions:
Mic has ongoing coverage of the Oscars. Please follow our main Oscars hub here.