Iranian director Asghar Farhadi slams Trump's Muslim ban in Oscars acceptance letter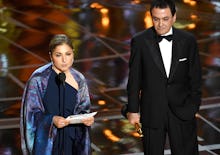 Iranian director Asghar Farhadi sent a message Sunday from the Oscars stage directly to the White House — without even stepping foot in the United States. 
Farhadi stayed home to protest President Donald Trump's Muslim travel ban, instituted via executive order during Trump's first month in office. The order halted the nation's refugee resettlement program and temporarily banned U.S. entry to travelers from seven majority-Muslim countries. Mic previously reported the ban would block Farhadi from entering the country. 
Farhadi sent two Iranian-American scientists, Anousheh Ansari and Firouz Naderi, in his stead. Ansari read a statement from Farhadi that first thanked the director's collaborators before turning to criticism of the ban. 
I'm sorry I'm not with you tonight. My absence is out of respect for the people of my country and those of other six nations whom have been disrespected by the inhumane law that bans entry of immigrants to the U.S. Dividing the world into the "us" and "our enemies" categories creates fear, a deceitful justification for aggression and war. These wars prevent democracy and human rights in countries which have themselves been victims of aggression. Filmmakers can turn their cameras to capture shared human qualities and break stereotypes of various nationalities and religions. They create empathy between us and others, an empathy which we need today more than ever.
The audience offered Ansari, Naderi and Farhadi thunderous applause, and Twitter was similarly inspired by Farhadi's words. 
Ansari is known as the first female space tourist, Variety reported, and was also the first astronaut of Iranian descent. Naderi, a world-renowned scientist, was NASA's director of Solar Systems Explorations. 
This wasn't Ansari's first foray into politics, either. Amid rising tensions between the United States and Tehran in 2006, she wore an Iranian flag while boarding a Russian spacecraft despite objections from NASA and Russian officials. She dedicated her expedition to "expanding global consciousness." 
Trump's Muslim ban has proved extremely unpopular and spurred nationwide protests that lasted several weeks. The weekend after Trump signed the ban into law, thousands gathered at airports   across the country to support those who had been detained.
Sarah Harvard contributed additional reporting to this story.