Did Jimmy Kimmel steal a joke from Amy Poehler and Tina Fey at the 2017 Oscars?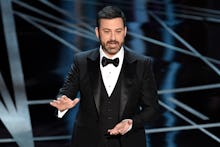 In his opening monologue at the 2017 Oscars, Jimmy Kimmel made a joke that sounded pretty familiar. That's because his jab at Andrew Garfield's weight loss resembled a joke Amy Poehler and Tina Fey first made at the 2014 Golden Globes. 
Kimmel called out actor Garfield, who is nominated for his leading performance in Hacksaw Ridge, for losing 40 pounds for his role in Martin Scorsese's Silence. The host jested that Garfield's slimming down was "an astonishing physical transformation that hasn't been attempted since every actress in every role ever."  
Back in 2014, when Tina Fey and Amy Poehler hosted the Golden Globes they said something along the same lines, stating losing 45 pounds for a movie is "what we call being an actress." 
Whether or not Kimmel stole from the actresses, his similar comment didn't go unnoticed. 
Mic has ongoing coverage Oscars coverage. Please follow our main Oscars hub here.