People are slamming Jimmy Kimmel for making fun of people of color's names at 2017 Oscars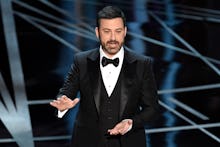 Jimmy Kimmel is having a little trouble pronouncing some people of color's names during the show. An even bigger problem? He's putting the joke on them. 
During the Oscars telecast, Kimmel used his airtime during several segments to poke fun at the name of Academy Award winner Mahershala Ali, as well as the name of his newborn child. He also made fun of the name of an Asian tourist who was part of one of the show's comedic interludes. 
Kimmel's slighting people of color's names at the Oscars continues an unfortunate trend of mocking people of color at award shows. 2013 Oscar nominee Quvenzhané Wallis had to correct people who either mispronounced her name or tried to call her "Annie" rather than tackle it. 
Orange Is the New Black's Uzo Aduba has spoken out against people trying to slight her because of her name. In an interview, Aduba told the story of her mother who refused to allow her to change her Nigerian name when people couldn't pronounce it. 
"I went home and asked my mother if I could be called Zoe," Aduba — whose full first name is Ozuamaka — told the Improper Bostonian. "I remember she was cooking, and in her Nigerian accent she said, 'Why?' I said, 'Nobody can pronounce it.' Without missing a beat, she said, 'If they can learn to say Tchaikovsky and Michelangelo and Dostoyevsky, they can learn to say Uzoamaka.'"
Given the continued racial bias people of color face for having names that don't "sound white," this might not be the best material for Kimmel. 
Mic has ongoing Oscars coverage. Please follow our main Oscars hub here.