Who is Gary Allan Cole? Gary from Chicago becomes the ultimate Oscar meme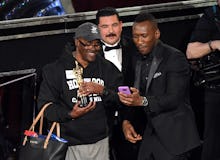 Gary Allan Cole is one of the "real people" who gets to hang out with A-listers tonight at the Oscars — and Twitter loves him. 
Gary from Chicago
Cole was one of the tourists that Oscars host Jimmy Kimmel escorted from a Hollywood tour bus into the Dolby Theatre. Even though it was supposed to be a surprise, Gary from Chicago, as he was introduced, didn't seem too shocked. He pulled out his iPhone to document the experience, but was pretty casual about it. 
Gary suddenly seemed more into the whole stunt when Denzel Washington "wedded" and his fiancée, Vicki. 
When Vicki was asked to name her favorite actor, she said Washington. Washington then got up to grab the mic from Kimmel and said, "I pronounce you husband and wife, kiss the bride."
Since then, the tweets and memes have been flooding in. Gary from Chicago is a bona fide internet star.
Throwback to Ken Bone
Does this Gary mania seem familiar? That's because you're probably thinking of the Ken Bone craze — you know, Ken and his cozy red sweater from the second presidential debate in October.
Here's to hoping that like the Ken Bone memes, the Gary from Chicago memes keep coming.
Mic has ongoing Oscars coverage. Please follow our main Oscars hub here.