Seth Rogen's 'Hamilton' sing-a-long is the Oscars performance we didn't think we needed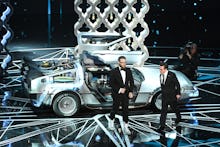 Every year, millions of fans watch the Academy Awards to not only to see who'll win the major categories, but also to enjoy some tremendous music. At the 89th annual Academy Awards, we've already been treated to quite a few dazzling performances, including an opening number from Justin Timberlake and a stunning vocal display from Moana's Auli'i Cravalho. 
The breakout musical performance of the night, though, may have come from funnyman Seth Rogen. The star of comedy gems like Pineapple Express, This is the End and Knocked Up hit the stage with Back to the Future star Michael J. Fox to present the award for best film editing. Wearing futuristic shoes and exiting a DeLorean with Fox, Rogen explained he had just one thing left on his bucket list: to perform a song from Hamilton in public. And so he did. 
Much to Lin-Manuel Miranda's delight, Rogen briefly showed off his musical chops before Fox jokingly cut him off to present the award. While we shouldn't expect Rogen to join the Hamilton cast anytime soon, suffice it to say, fans loved his performance. 
Check out some of the responses on Twitter below:
Mic has ongoing Oscars coverage. Please follow our main Oscars hub here.