Oscars 2017: Jimmy Kimmel used Sunny Pawar during a 'Lion King' skit and people were upset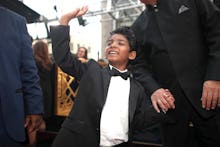 During a comedic interlude on Sunday's Oscars telecast, host Jimmy Kimmel lifted Lion's littlest star, Sunny Pawar, into the air as the iconic opening notes of The Lion King's "Circle of Life" played and candy fell from the sky.
Though the bit was probably just a way to make a connection between Lion and The Lion King — and make it rain candy — some people were uncomfortable with Kimmel's bit. 
"He would NOT have held up a little white kid like Simba and played the song from Lion King — nope, not even for a film called Lion," Teen Vogue editor Elaine Welteroth wrote on Twitter.
Other Twitter users agreed with her. 
Vulture's E. Alex Jung even had a tip for Kimmel on how to pick up Pawar without the weird, patronizing vibes — with Dev Patel as an example. 
Mic has ongoing Oscars coverage. Please follow our main Oscars hub here.