'Moonlight' writers Barry Jenkins, Tarell Alvin McCraney dedicate win to youth of color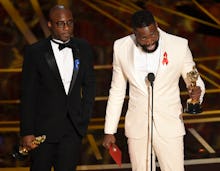 Moonlight is a film that focuses on those who live on the margins of society. The two winners for best adapted screenplay for Moonlight — Barry Jenkins and Tarell Alvin McCraney — said as much in their speeches.
"I tell my students that I teach sometimes, be in love with the process, not the result," said Jenkins, who also directed Moonlight. "But I really wanted this result because a bajillion people are watching, and all you people out there who feel like there's no mirror for you, that your life isn't reflected, the academy has your back, the ACLU has your back, we have your back. And for the next four years, we will not forget you." 
Jenkins' speech indirectly slighted President Donald Trump, whose executive order halting the U.S. refugee resettlement program and temporarily banning people from seven majority-Muslim countries from entering the United States lost to the American Civil Liberties Union in court. The ACLU is also representing Gavin Grimm, the 17-year-old transgender teenager suing Virginia's Gloucester County School Board for the right to use the bathroom that matches his gender identity. Trump recently lifted former President Barack Obama's guidance that aided transgender students in using appropriate school facilities. 
The ACLU responded on Twitter:
And yes, to all who don't see a mirror of themselves, Barry Jenkins is right, the ACLU does have your back.
McCraney gave a shout-out to his mother — who inspired Naomie Harris's character in Moonlight — before delivering his own message to queer youth. 
"This goes out to all those black and brown boys and girls and non-gender conforming who don't see themselves," McCraney said. "We're trying to show you you and us, so thank you, thank you, this is for you." 
People loved the speech. 
They were especially thrilled with the shoutout to gender nonconforming people. 
McCraney and Jenkins' speeches were reminders that diversity is not just about the numbers. Like 2016's Hidden Figures or 2017's Rogue One: A Star Wars Story, their speeches stressed that #RepresentationMatters.
Mic has ongoing Oscars coverage. Please follow our main Oscars hub here.