'Moonlight' winning best picture was actually too good to be true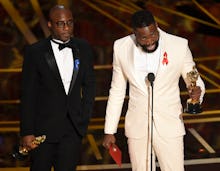 The moment when La La Land's creative team realized their movie did not win the Academy Award for best picture — that Moonlight did, instead — was dreamlike in nature. The producers of La La Land were even giving speeches about dreams when it happened. 
Slowly, people onstage started shifting around. Oscars crew ran for the envelope to see what had happened. The team realized a mistake was made. Then, producer Jordan Horowitz said the fateful words: "Moonlight! You guys won best picture!"
Here's to the fools who dream.
From the very beginning, Moonlight's awards season run seemed improbable. An independent movie about a black queer man's experience grappling with his identity took home gold at the 89th Academy Awards, coming off of two years of Oscars voters not nominating a single actor of color. Against all odds, the least Oscar-friendly type of movie became their favorite of the year.
Of course that run would end this way. Of course, after a season where La La Land dominated, it would look like that film was the winner up until the last possible second. Of course Moonlight could only win in the most absurd, otherworldly way possible. There was no other way for it to end.
On the one hand, it's a shame that the Moonlight team didn't get their moment of pure, unfiltered triumph — that even their victory was muddled by confusion. On the other, the movie's win is now tied with one of the most memorable moments in Oscars history. It's disappointing but fitting — a win that both gives us hope and reminds us of how far we have to go.
Vanity Fair critic Richard Lawson called the win "cathartic" on Twitter, and it's hard not to agree. La La Land, a movie criticized heavily for its treatment of race, lost out in the most dramatic possible fashion to a movie about, by and starring black people. It's a dream. It's a nightmare. It's poetry, for good and bad.
All along, Moonlight's journey was too good to be true. Even Sunday night during the awards, that seemed to be the case. But finally, triumphantly, the dream came true.
Mic has ongoing Oscars coverage. Please follow our main Oscars hub here.