Awkward 'Moonlight' victory over 'La La Land' was every person of color's dream come true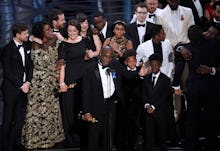 On Sunday night, in an unprecedented mix-up, Moonlight won best picture at the Academy Awards after the talent behind La La Land was mistakenly called to the stage to accept the award. 
When La La Land was called, every person of color felt the sting of defeat, not unlike watching Beyoncé's Lemonade lose album of the year to Adele's 25 at the Grammys a few weeks ago. 
In fact, Twitter thought so, too. 
But that was not the end of the story. In the name of Beyoncé losing to Adele, Beyoncé losing to Beck, the Atlanta Falcons losing to the New England Patriots and three years of #OscarsSoWhite, Moonlight won best picture and people of color, queer people and queer people of color finally felt validated by the Academy Awards. 
The truth is, even though Moonlight will be remembered in trivia games and Wikipedia pages as the best picture of 2016, the people who made it will have to live with not having the moment of their name being read from the card. They were not allowed to deliver uninterrupted speeches. Instead, Barry Jenkins just stood in awe and uttered a few phrases. 
Even with Moonlight winning, the talent behind the film still didn't get the respect it deserved, calling to mind one of the most iconic lines of Shonda Rhimes' Scandal. 
"You have to be twice as good as them to get half of what they have!" 
Watch the moment below.
Mic has ongoing Oscars coverage. Please follow our main Oscars hub here.