Jewish cemetery in Philadelphia vandalized, just one week after vandalism in St. Louis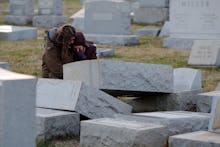 Authorities are investigating after dozens of headstones at a Jewish cemetery in Philadelphia were vandalized, just one week after 100 headstones at a St. Louis Jewish cemetery were toppled. 
The incident took place at the Mt. Carmel Cemetery in the Wissinoming section of the city on Saturday, CNN reported, and is currently being classified as institutional vandalism and not a hate crime. While Mt. Carmel is located near three Christian cemeteries, no vandalism was found at those locations.
The cemetery has been serving the Jewish community since 1906.
The Anti-Defamation League is offering $10,000 for information leading to an arrest and conviction, while The Fraternal Order of Police Lodge No. 5 is offering a $3,000 award.
"One stone in one cemetery being desecrated is one stone too many. We are talking about hundreds within a week," Nancy Baron-Baer, a regional director for the ADL, said of the vandalism.
The disconcerting incident comes on the heels of the toppling of headstones at the Chesed Shel Emeth Society cemetery in St. Louis. Two Muslim-American activists raised more than $133,000 to repair the damages.
After President Donald Trump was admonished for his silence on a rash of anti-semitic incidents in the U.S., Vice President Mike Pence visited the St. Louis cemetery, saying, "There's no place in America for hatred."
Trump himself finally denounced the apparent rise of anti-semitism, calling himself "the least anti-Semitic person that you've ever seen in your entire life."