International Women's Day 2017: Everything to know ahead of March 8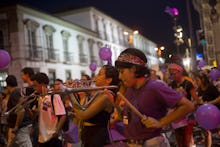 International Women's Day is an annual march recognizing women around the world. According to the United Nations, International Women's Day first began in just the United States in 1909 as National Woman's Day on Feb. 28. The day, designated by the Socialist Party of America, was created to honor the garment workers' strike of 1908 where women demanded better working conditions. This year, Women's March organizers recently announced plans to stage a "Day Without A Woman" protest on International Women's Day.
Socialism: the driving force behind International Women's Day
International Women's Day really picked up steam thanks to the Socialist International, an international organization that unites socialist, social democratic and labor parties of countries around the world. The SI established a Women's Day in 1910, but, according to the U.N., focused on its international aspects: "to honor the movement for women's rights and to build support for achieving universal suffrage for women."
From the 1910s until the 1970s, International Women's Day was mostly celebrated by communist states like the Soviet Russia and China. The day reached a wider global audience after the U.N. adopted it in 1975 to focus on gender inequalities throughout the world.
Annual theme and color
Purple is the color of International Women's Day, thanks to its strong ties to the women's suffrage movement and as a symbol for dignity and justice. However, for the Women's March "Day Without A Woman" strike, organizers recommend wearing red instead of purple.
The United Nations has led the charge to create themes for each year's International Women's Day. This year, the U.N. theme for International Women's Day is "Women in the Changing World of Work: Planet 50-50 by 2030."
The U.N. details the conflicts that inspire the theme:
The world of work is changing, and with significant implications for women. On one hand, we have globalization, technological and digital revolution and the opportunities they bring, and on the other hand, the growing informality of labour, unstable livelihoods and incomes, new fiscal and trade policies and environmental impacts — all of which must be addressed in the context of women's economic empowerment.
The International Women's Day website, however, states the theme for 2017 is #BeBoldForChange, noting "the World Economic Forum predicts the gender gap won't close entirely until 2186. This is too long to wait. Around the world, IWD can be an important catalyst and vehicle for driving greater change for women and moving closer to gender parity."