Viola Davis made history, but it's been 15 years since a woman of color won best actress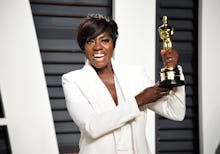 The 89th Academy Awards ended up being a historic night for Viola Davis. After winning best supporting actress for her role in  Fences, Davis is now the first black actor to earn all three major acting awards: the Tony, the Emmy and the Oscar. Davis also was the first black actress to earn three Oscar nominations.
Davis' accomplishments are a big win for women of color. Unfortunately, they also serve as a reminder of lingering racial inequality in America. Though Davis and other black actresses have delivered many strong and notable performances, only one has ever won an Oscar for best lead actress. 
The only woman of color to win best actress
Over the years, several black actresses have won best supporting actress, including Hattie McDaniel, Whoopi Goldberg, Jennifer Hudson, Mo'Nique, Octavia Spencer, Lupita Nyong'o and now, Viola Davis. 
But Halle Berry holds the record as the only black actress to ever win the Oscar for best actress in a leading role, an award she earned at the 2002 Academy Awards for her performance in Monster's Ball. Berry gave a moving acceptance speech about how the win opened the door for other women of color. The Oscar also paid off — literally. When she won, Berry's earnings per role jumped from $118,750 to $6,500,000. 
It's important to note that Berry's Oscar didn't make being a black woman in Hollywood much easier. It has been 15 years since Berry won best actress, but there have been plenty of powerful performances from black actresses who could have taken home the gold. In 2009, Gabourey Sidibe was nominated for best actress for her role in Precious, but she didn't win. In 2011, Viola Davis was nominated for best actress for her role in The Help. She also didn't win. Quvenzhané Wallis was not a woman but a child — just nine years old (and 135 days) — when she was nominated for Beasts of the Southern Wild in 2012 and did not win. 
Despite some big wins for people of color at the 2017 Oscars — including best picture win for Moonlight — in many ways, #OscarsSoWhite still rings true.
Mic has ongoing Oscars coverage. Please follow our main Oscars hub here.