Trump Congressional Speech: Start time, channel, and what to expect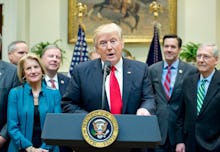 President Donald Trump will deliver his first speech before a joint session of Congress, in what some White House members consider a "reset" after a chaotic first month in office, according to Politico. The speech will address the work the Trump administration wants to accomplish on Capitol Hill for the rest of this year, Politico reports. 
This is what we know about Trump's congressional address.
Date, time and channel
The speech, called the Presidential Economic Address, will be delivered on Feb. 28 at 9 p.m. C-SPAN will air Trump's first address to a joint session of Congress. 
What to expect 
Reuters reported that Trump would lay out a plan to overhaul the Affordable Care Act. Republicans are under pressure to repeal and replace the ACA, even though the health care law is popular in the states controlled by the GOP. In fact, Republican leaders have grappled with their constituents' anger because they fear that their insurance plan will be stripped away. 
Sources familiar with Trump's speech added that he would highlight companies such as Intel and Carrier, which announced that they would either expand operations or keep jobs stateside, Politico reported. Administration officials added that he would focus on four policy areas: tax reform, border security, health care and infrastructure. 
During a press briefing on Feb. 21, press secretary Sean Spicer said that the president "is going to lay out two things — where we've come and where we're going." Spicer added that the speech will be "an opportunity to remind members of Congress and the American people what he promised them on the campaign trail."
Spicer also pointed out that Trump would talk about "the challenges that we have as a nation and where we're going. And that's everything from our relationship with other countries in the world to some of the various domestic problems that we face, the challenges that we face in cities, heath care, education."