The best Oscars gowns weren't even at the ceremony — they were at the after-parties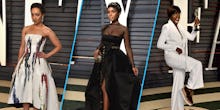 At the 2017 Oscars, though the show might have had its fair share of fumbles with off-color jokes and a rather harrowing mix-up with the best picture winner, the fashion did not disappoint. 
Janelle Monáe arrived looking like a futuristic Cinderella. Emma Stone turned herself into a virtual Oscar statuette. Taraji P. Henson in dark blue vampy velvet made us reevaluate our entire lives. And, well, Ruth Negga continued her stint as one of the best-dressed women in Hollywood today, no question. 
There was no real "ugly" gown among the bunch, just sparkles and satin and velvet galore in flattering silhouettes. 
But after the show, many of the stars attended after-parties like Vanity Fair's and stunned us once more, but in a different way. The after-parties are known to be the places where nominees and winners quite literally let their hair down, swap their painful heels for slightly less uncomfortable heels and maybe put on pants rather than a dress. 
And my, did they look good. Perhaps even better on these red carpets than the official Oscars one itself. 
For example, here is Stone looking lovely on the Oscars red carpet in her gold Givenchy dress with a Planned Parenthood pin at the top.
But for the Vanity Fair Oscar Party, she changed into a sparkly tuxedo jacket and short white skirt, and pinned on an ACLU ribbon too. 
Here is Ruth Negga at the Oscars, looking radiant in red Valentino... 
...and then here she is at the after-party, in a short, sweet and sparkly Dolce and Gabbana dress. 
Janelle Monáe may have looked otherworldly at the Oscars in Elie Saab.
But at the after-party, she looked otherworldly and even cooler in Alexandre Vauthier. 
Viola Davis looked stunning in Armani Privé at the Oscars, before winning the award for best supporting actress. 
But for the after-parties, she went for a favorite of Hillary Clinton: A white pantsuit — and even paired it with metallic flatforms. 
Similarly to Davis and Stone, Cynthia Erivo dressed in a dramatic gown for the Oscars ceremony, draping herself in a highly-embroidered Paolo Sebastian gown. 
But for the after-parties, she donned a black tuxedo jacket with a deep V and what appeared to be wide-leg pants. 
And while Naomie Harris certainly made a statement in white Calvin Klein and yellow heels for the show... 
...she did it once again at the after-parties, wearing an even more elegant white Grecian gown. 
Also, Felicity Jones may have looked like a princess for the Oscars ceremony in Dior... 
...but at the after-parties, she looked even better in sparkly Erdem. 
Then there was Isabelle Huppert who slayed in Armani Privé for the actually ceremony... 
...and then did it again at the after-parties, while also opting for Armani. 
Even Brie Larson, who looked amazing in black velvet Oscar de la Renta at the Oscars found a way to spice things up for the after-parties... 
...wearing a slinky green Ralph & Russo gown. 
Even stars who didn't attend the Oscars found a way to make a statement at the after-parties. 
Like, look at Reese Witherspoon... 
...and Sarah Paulson. 
With such high expectations at the Oscars themselves, the stars may feel like it's best to play it safe. But for the after-parties, clearly, it's more about having fun — and getting a bit more comfortable.