'Horizon Zero Dawn' Release Time and Preload: Start playing at midnight — or earlier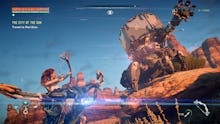 Horizon Zero Dawn is a gorgeous, post-post-post-apocalyptic game starring a compelling, badass heroine named Aloy. The reviews so far have been overwhelmingly positive, and it looks absolutely gorgeous — so if early impressions are any indication, you'll need to set aside a good chunk of time to complete it. You probably have just one question on your mind: When can you start playing?
Here's what you need to know about preloading Horizon Zero Dawn, along with information about exactly what time you'll be able to start playing.
Horizon Zero Dawn midnight release and preload info
Horizon Zero Dawn is available for preloading right now if you've already purchased it through the PlayStation store, according to GameSpot. It should have started downloading automatically once it became available to do so. If you're not sure whether it's downloading yet, navigate to the game's page in the PlayStation store and initiate the download there if you need to.
If you're still in the process of downloading it, make sure to leave your console in rest mode rather than shutting it completely off so it will continue downloading when you're not using it.
If you're in North America, you'll be able to start playing at midnight Eastern time on Tuesday, which is Monday at 9:00 p.m. Pacific. Yes, that means if you live on the West Coast, you'll actually be able to start playing before the official release date.
It's not clear exactly when Horizon Zero Dawn will be available in other regions, but its official release date in Europe is March 1.
According to GearNuke, the total file size is 39.485 gigabytes.
More gaming news and updates
For more gaming news, check out the latest from Mic. Here are 15 photos that compare the Nintendo Switch to the Wii U and other gadgets, a beginner's guide to For Honor and a horrifying look at the sexual harassment female Overwatch players face on a daily basis.