Marijuana might be harmful to teens, group of buzzkill doctors says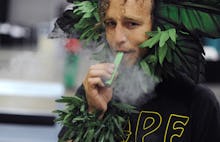 Not so fast, teens: Marijuana legalization might be on the rise, but a new report from the American Academy of Pediatrics cautions that the drug can still have adverse affects on developing brains.
According to the report, published Monday in the journal Pediatrics, the increasing legality of marijuana across the country for medical and recreational use has created "an environment in which marijuana increasingly is seen as acceptable, safe, and therapeutic."
That's a problem, they reason, because new methods of studying the brain have yielded data to support the theory that using marijuana at a young age might permanently affect brain maturation — meaning marijuana might not be as benign a substance for growing teens to mess with as some adults have come to believe it is.
"Parents will say, 'I use it moderately and I'm fine with it, so it's really benign and not a problem if my kid uses it,'" Dr. Seth Ammerman, one of the co-authors of the report, told NBC News. "We would rather not mess around with the developing brain."
Harmful effects 
According to the report, the risks associated with marijuana use in adolescence include "impaired short-term memory and decreased concentration, attention span, and problem-solving skills, all of which interfere with learning," and additional problems with "motor control, coordination, judgment, reaction time, and tracking ability" have also been documented.
Research also suggests that the sooner a young person begins using a substance, the more likely it becomes that they will develop an unhealthy dependence or addiction to it. Since brains continue to develop well into the mid-20s, that makes the prevalence of marijuana use among high schoolers particularly concerning. 
Recent data from the Substance Abuse and Mental Health Services Administration shows that 77% of U.S. adolescents aged 12 to 17 thought there was "no great risk" associated with smoking marijuana once a month.
Stronger weed, man
Marijuana's potency has also risen demonstrably in the past few decades, which could contribute to parents mistakenly believing that the weak grass they used to smoke in high school is the same stuff their teenagers may smoke today.
Not so. According to the study, the average tetrahydrocannabinol, or THC concentration, in most marijuana plants hovered above 12% in 2012 — compared to approximately 4% in the early 1980s.
While stronger weed that's increasingly legal might sound like the best news teens have gotten since Taco Bell announced its breakfast menu, the science suggests that they'd be better off starting their days with a Cantina Bowl than any other type of bowl. Sorry, folks — don't shoot the messenger.