This is Steve Harvey's response to Warren Beatty and Faye Dunaway's Oscar mix-up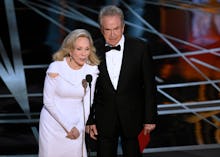 For a few moments at the 89th Academy Awards, it appeared that La La Land won best picture. Presenters Warren Beatty and Faye Dunaway had announced the film, after all. But it turns out that they were mistaken. La La Land's producers were cut short during their acceptance speeches because of the error. The actual best picture winner was Moonlight.
So were Dunaway and Beatty handed the wrong envelope or did they pull a Steve Harvey?
In case you forget (and how could you?), Harvey wrongly named Miss Universe in 2015. He crowned Miss Colombia the winner when he was supposed to crown Miss Philippines. Harvey realized his mistake and then had to crown Miss Philippines the winner. Though Twitter came to his defense, Harvey hasn't quite lived down the embarrassment. Oscars host Jimmy Kimmel even joked that the Oscars mix-up was Harvey's mistake.
Unsurprisingly, Harvey planned his public reaction to the event. On Monday he unleashed some tweets and talked about the Oscars confusion on his radio show.
Harvey's Twitter response
In what was surely meant to be a joke, Harvey kicked off the morning by tweeting this:
A few minutes later, Harvey let on that he knew about the Beatty-Dunaway mistake — and that his followers would have to tune in to his radio show, The Steve Harvey Morning Show, to hear his response.
Then he (facetiously) voiced support for Beatty:
On the radio
On The Steve Harvey Morning Show, Harvey told Beatty to call him.
"Yeah, I know all about this. I know more than anyone else in the world about this," he said on air. "I am the creator of these moments. The epicurean of this."
Harvey also referred to the social media flutter over the Oscars flub. 
"Because Warren made a mistake, does he have to die?" Harvey quipped. "Should he lose his life? Y'all wanna kill him? Well, he needs security because of this."
He went on to say, "Me and Warren handled it great. It's me and Warren's thing. We handled it great. At least the producers of the Oscars walked out with him... and they corrected the mistake on the night."
Harvey also observed how the Oscars producers corrected the mistake much faster than the producers at Miss Universe did. He said that almost four minutes passed before Miss Universe was correctly named.
"The woman is standing out there with the crown," Harvey said. "But [the La La Land cast] gave speeches. Same thing as wearing the crown... I remembered it like it was yesterday."
Well, Harvey, yesterday somebody else was responsible for the flub — not you. You're off the hook this time.